Since my full-time job is at best 45 minutes from the barn and at worst an hour-and-a-half-plus, I need at-home time saving ways to make sure I do things like feed myself. My slow-cooker is my best little helper, especially on lesson nights when I routinely don't get home until after 9pm. These are some of my favorite easy slow-cooker meals for those late nights at the barn.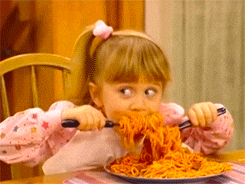 My favorite type of slow cooker meal: Dump and run. Literally just dump everything in the crock pot, turn it on, and you're done. This one takes a bag of frozen corn, a can of beans, a jar of salsa, and some chicken. Done. It shreds super easily when it's cooked and then you throw it in a tortilla or on some rice, top with cheese and your favorite accoutrements (mine are cilantro, sour cream and avocado). Delicious, filling, and it keeps well so you can eat the leftovers for a few days.
(Get the recipe here)
Slow Cooker Chicken Tikka Masala
I love this one when we're in the mood for something filling but with flavors that that aren't always in the regular meal rotation. We'll have it with broccoli on the side, which I always end up mixing in so the broccoli soaks up the delicious sauce. Since this is technically a Weight Watchers recipe I can't link to it, so here it is.
28 oz canned crushed tomatoes
1 small minced onion
1 Tbsp minced garlic
1 Tbsp fresh minced ginger root
2 Tbsp garam masala
1 Tbsp brown suar
1/2 tsp cumin
1/2 tsp coriander
2 pounds boneless skinless chicken thighs or breasts
1/2 cup plain low fat Greek yogurt
1/4 cup cilantro (optional)
Combine everything except the yogurt and cilantro in the slow cooker. Cook on high for 3 to 4 hours or low for 6 to 8 hours. Stir in yogurt and cilantro. Serve over rice or with naan (my personal favorite).
Non-Slow Cooker Food
One of my favorite fast and easy meals lately is a sort of made up cobbled together huevos rancheros thing. I put two over-medium eggs on some cumin-spiced black beans, sprinkle with a little cheese, throw some salsa on there and top it off with a dollop of sour cream. I can make this filling, simple meal in about five minutes, it tastes great and it keeps me from getting hungry for hours. It's great for breakfast, lunch or dinner (sometimes two of these meals in one day depending on the contents of my fridge/pantry…).
I also keep hard boiled eggs on hand all the time. They are great for breakfast or a snack and they're fairly portable. I boil my eggs by putting them in a pot and filling with cold water. Sometimes I sprinkle in some salt. Put on high heat until it comes to a good boil. Boil about 1 minute. Remove from heat but leave the eggs in the hot water for 20 minutes to an hour…or longer if, like me, you forget they're on the stovetop! They turn out really well every time now that I've gotten the timing down; you really do have to watch them though or they can get overcooked really fast.
What are your favorite go-to meals or snacks for busy barn nights?